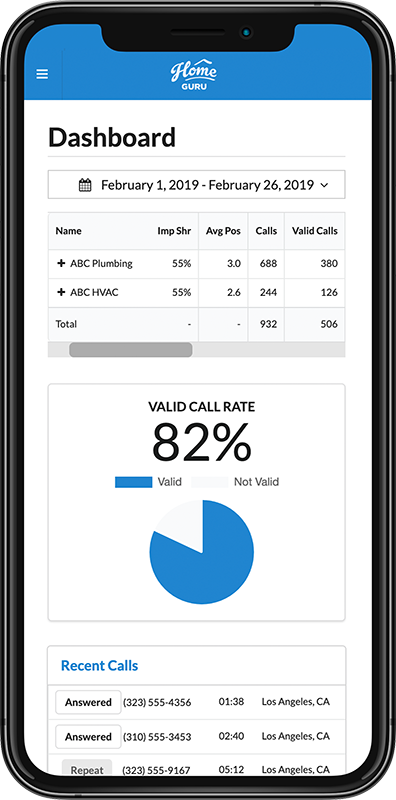 HomeGuru™ Qualified Exclusive Leads
Only Pay for Real Leads
Easy Setup
No Commitment, No Monthly Fees
Limited Time Only! $500 $0 Setup Fee
All leads come from internet users searching for Home Improvement projects. If we've identified them as a great potential customer for you we'll start showing them your branded ads and take them to your HomeGuru conversion optimized landing page. If it's a match they'll contact you!
Choose your own lead price
You have control over your lead price. We'll let you know how many leads to expect at any given price.
Pay only for valid leads
We review each incoming call and webform and bill you only for real verified leads, not for clicks.
Stay up-to-date
Get weekly reports in your email and log in to our proprietary system to see your account performance any time.
Optimized for conversions
Our state-of-the-art landing pages use custom technology to improve conversion rates.
Specialized for home improvement
With over 10 years of experience exclusively in home services we know what it takes to drive real customers.
Exclusive leads delivered only to you
No generic lead-gen forms or leads sent to 4 different companies. Leads are yours alone.
We've already delivered over 50,000 paying customers to our partners, try HomeGuru Leads today.
Getting Started
1
Sign Up
Call (888) 437-8049 or fill out this form to get started.
2
Onboard
Just answer a few questions and we take care of the rest.
3
Get Leads
New customers call you directly, you pay only for valid leads.